Accessibility Affects Everyone
I've had the text size on my phone set as small as possible for as long as I can remember. For one simple reason: to maximise the available space. My close-up vision has always been fine, so this has worked for years now.
A couple of years ago my wife and I had our first child. And my sleep went from 8 regular hours a night, to maybe 6 interrupted hours.
And then we had our second child last year. Now I get maybe 4 hours of interrupted sleep. (Nobody ever talks about how badly children can affect your sleep. It's not just newborn babies!)
What's this got to do with my eyesight? Well, a little while after my first child was born, I started getting occasional headaches. When I spoke to the doctor, they said they often see this kind of migraine due to stress, and lack of sleep. Two things which come with a newborn!
When my second was born, it started happening a lot more often. Sleep and stress are hard factors to control in this situation, so I started looking for anything else which might be connected. And I realised that, when I was more tired, I was straining my eyes more to see my phone screen.
I've since changed my default text size by bumping it up a couple of notches. No more straining my eyes to read when I'm tired. And more importantly, no more headaches.
People often think things like Dynamic Text on iOS are for a minority of users. Accessibility is often an afterthought in apps. But accessibility tools are useful to everyone, in all sorts of unexpected circumstances.
Here's an example of just how different 2 steps in test size can look (tap/click to open in a new tab):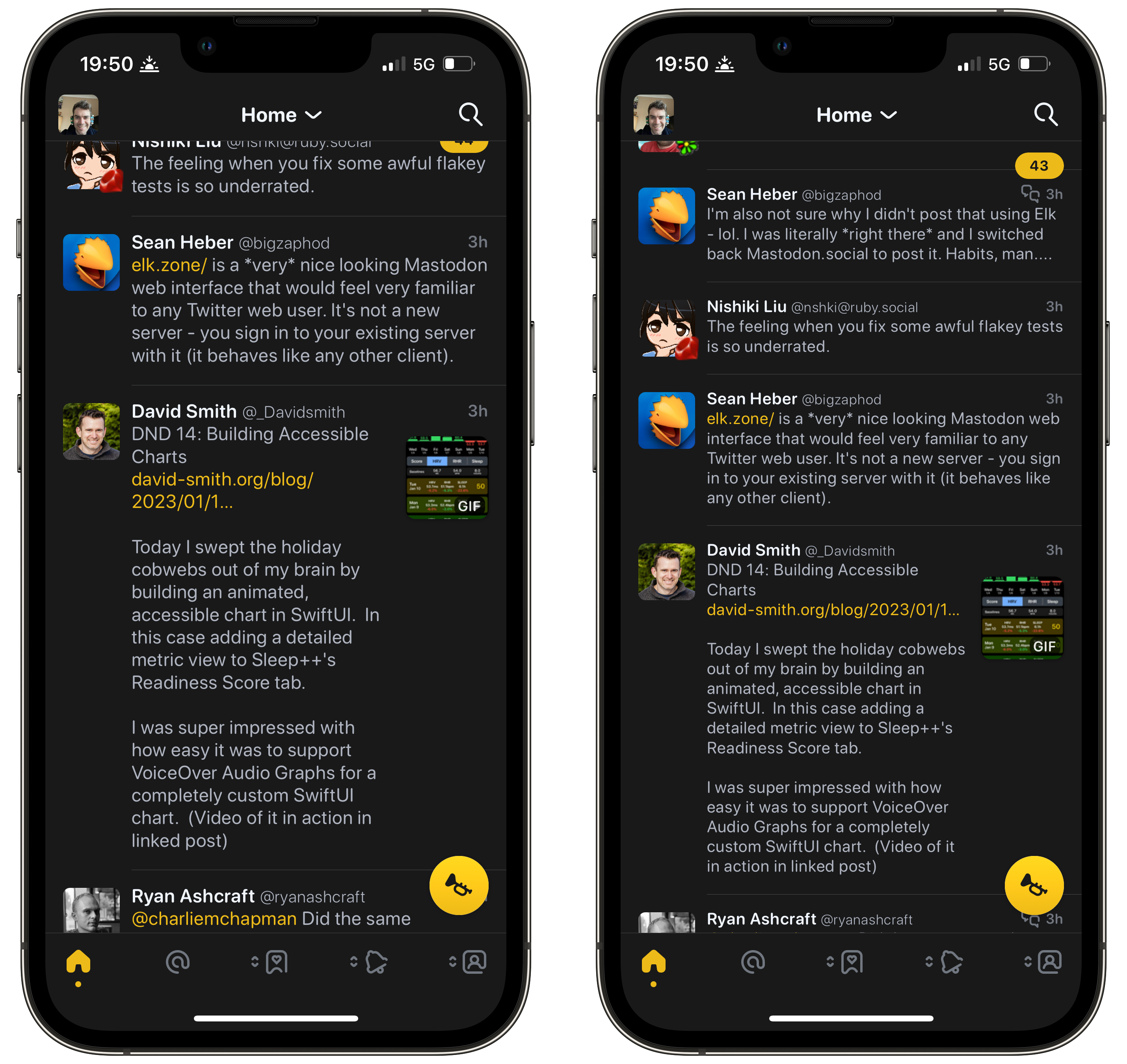 The image on the right gives me headaches. That's not even about ease of use, that's a health issue.
Make sure your apps support Dynamic Text, VoiceOver, and any other accessibility frameworks that are relevant on whichever platform you're working on.
Published on 11 January 2023